This is a curtain-raiser video compilation of thirty of my most recent unpublished watercolor paintings.
(Note: The views expressed in the video are those of its makers and do not reflect the policy, position or opinion of LEAD Digest in any manner)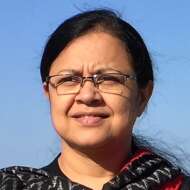 Jazeela Sherif
Jazeela Sherif is an engineer turned CFO, a painter and a trained singer. Besides engineering, she holds an M.B.A, PhD, and an MSc in Financial Engineering.