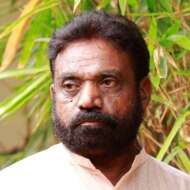 Vijayakrishnan is an award-winning film critic, writer and film maker. He is a walking encyclopedia on world cinema. In 1981, his book on films titled Chalachitra Sameeksha won the Indian National Film Award under the category - The Best Book on Cinema. Thereafter, he has won several national and regional awards for books on films.
Securing a place in Malayalam cinema, Vijayakrishnan made his debut film Nidhiyude Kadha in 1986. After a gap, he made the film Mayoora Nritam in 1995, and subsequently entered the mini-screen Industry. He made fifteen TV serials, nineteen tele films and 9 documentaries. In 2009, he directed the film Dalamarmarangal , followed by Umma in 2011. His latest film Ilakal Pacha Pookkal Manja, made in 2017, is a children's film.
All the while, his literary pursuits continued unabated producing fourteen fictional works, twenty-three books on films, two children's books and one literary criticism.
Vijayakrishnan has been a member of the Indian Central Board for Film Certification, Director Board Member of Kerala State Film Development Corporation and Bharatiya Vidya Bhavan. He has been a member of the Board of Studies in Thunchath Ezhuthachan Malayalam University and a governing council member of Kerala State Chalachitra Academy. He was a member of the Kerala State Film Award Committee and the Indian Panorama Selection Committee for Filmotsav 1986. He was a jury member of Indian National Film Awards 2015 and 2019, and the Chairman of the Kerala State Award Committee for books on Cinema.
This user account status is Approved