THE ART OF BEING AN ARTIST
These days, being an artist is just not being creative. It is also about knowing how to reach the right audience and the markets, mostly through digital means. Here, Dr. Jazeela Sherif is in conversation with Ms. Swapna Namboodiri, who has carved a niche of her own in the international art market.

(Note: The views expressed by the panelists are their personal views and do not necessarily reflect the policy, position or opinion of LEAD Digest)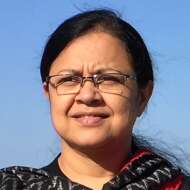 Jazeela Sherif
Jazeela Sherif is an engineer turned CFO, a painter and a trained singer. Besides engineering, she holds an M.B.A, PhD, and an MSc in Financial Engineering.